Current supplemental trends indicate that the use of adaptogen in sports supplementation. These are active compounds that exhibit neuromodulatory, neuroprotective effects. Their use in the world of sports consists of supporting concentration, regeneration, as well as accelerating adaptation to training and consequently, supporting physical activity.
The active substance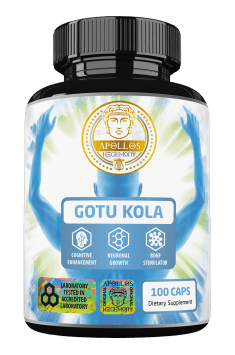 Gotu Kola, an Asian snout, is a plant that grows in tropical regions such as South Africa, China and Madagascar. In ancient medicine it is called the plant of life, because of its interesting properties. Active substances that exhibit biological effects are triterpene and ascorbic acid. In addition, Gotu Kola contains: flavonoids, magnesium, essential oils, serine, glutamic acid and vitamins A, C, E and K.
Action and biological role
The main biological effect of Gotu Kola is due to the active compounds mentioned above. In scientific publications, supplementation with extracts has significantly helped the process of learning, memorizing and associating facts. Moreover, it improved the concentration, which was related to the improvement of cognitive parameters. The plant also has an adaptogenic effect, which translates into support of the body during intense effort, improved regeneration and faster progression.
It is also noteworthy that the Asian cannula works not only on the nervous system, but also some somatic support features. Its impact on the improvement of Alzheimer's treatment, its support of the collagen synthesis process has been recognized, which has improved the appearance of the skin, hair and nails, and has helped to treat arthralgia. Bacterial and fungal activity, in turn, has been used in the treatment of burns, eczema and wounds that require pharmacological support.
Description of the supplement
Supplements are mostly found in capsule form, which are found as standardized extracts. If you want to buy a product that will have a significant biological effect, we should target 5-8% of triterpenes as well as 1-2% of asiaticosides.
The dried supplement usually contains ⅓ active ingredients per 1g of supplement, which is associated with the use of comparably higher doses.
How to dose and what to combine?
With a standard supplement of 8% triterpenes and 2% azaleas, the daily dose should be about 400 mg. This is a quantity that gives you a great biological feeling that helps your body in a timely manner. In neurodegenerative diseases, doses of 600 mg are used as a support for pharmacological treatment.
Supplement can be successfully combined with other adaptogens such as ashwagandha, bacopa monnieri, ginkgo biloba, rhodiola rosea.
Taking advantage of tyrosine and low doses of caffeine will be useful during the exam. In this way we will increase the activity of the nervous system, using the effect of "clear mind".
Do not take supplements in the evening, as its neurostimulating effect can cause sleep problems.
What can we expect from this supplement?
Gotu Kola supplementation mainly affects the functioning of the nervous system. During the supplementation you can observe:
increased concentration,
faster memorization,
mood improvement,
improve sleep quality,
sedative effect.